325A Middle St., Washington, VA Sat-Sun, 12-5pm (540) 675-1313 middlestreetgallery@gmail.com
Attention: New Gallery Hours: Sat-Sun 12-5pm
No entrance without a mask. No more than 2-3 visitors at any given time.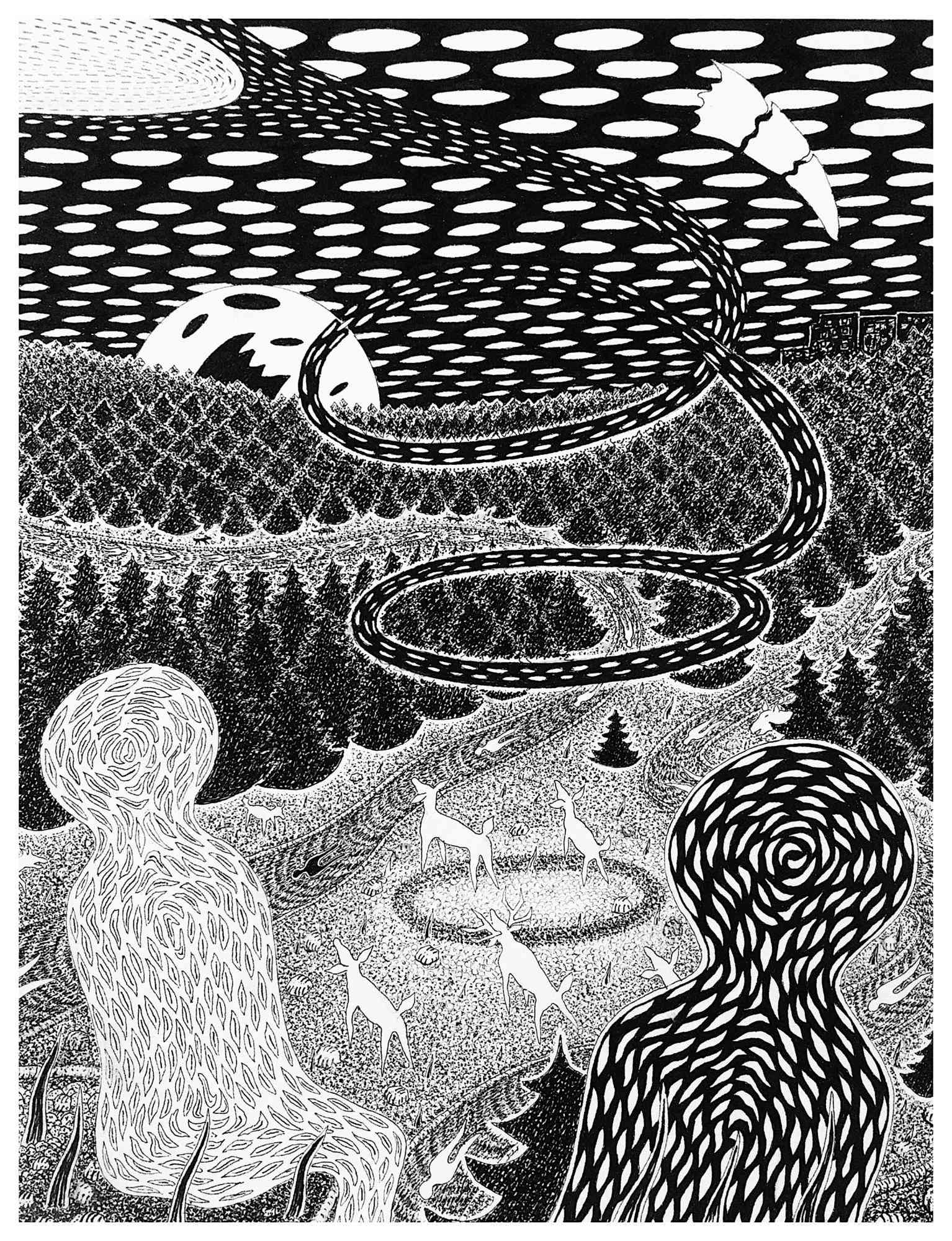 We Are Open!!
On the walls, a gallery group show and an aptly named solo show of the works of
"Not Out Of the Woods"
Attention: New Gallery Hours: Sat-Sun 12-5pm
No entrance without a mask. No more than 2-3 visitors at any given time.
NOT OUT OF THE WOODS
September 5 - October 4
See also the Virtual Show of Wayne's work - click here
Wayne Paige
Since 1997 I have retreated to a life inside an inkwell- a black and white graphic world of duality sprinkled with social commentary and Dreamscape imagery. Recent events from the pandemic to economic and social upheaval caused the well to nearly overflow and had me swimming frantically trying to absorb this sensory overload and then apply it to my art. I decided to take a step back, dig a little deeper and to draw more upon personal experiences for inspiration that included locations and events that I observed and noted in rural Virginia just outside of Middleburg.
My previous ink drawings included mountains, waterways, and forest populated by bipedal beings resembling clothespins. The current series also includes spiritual entities, local ruins and fauna, a secret compound, and a phenomenon that I had witnessed two years ago. By tapping into these new resources, my narrative expanded and yet still remained consistent to the overall focus of my earlier work which is creating art that embraces conflict, dreams and humor.
All takes place under a moonlit sky and not out of the woods.
My career as an exhibiting artist extends back to the mid 1970's and includes twenty-six solo exhibitions, numerous gallery and museum exhibitions. Most recently, my work was featured in the exhibition Communicating Vessels at the American University Museum at The Katzen Arts Center. Additional noteworthy exhibitions and awards include the "Washington Art Matters ll: 1940s - 1980s" exhibition at the American University Museum at the Katzen Center, First Prize in The Fairfax Art Council awards, First Prize in The George Washington University Alumni Competition, and a Special Recognition award from The Virginia Commission of the Arts. Collectors include American University, The George Washington University, Marymount University, the Elisabeth French Collection, the Gudelsky Collection, Radio One and Prudential.
web: waynepaige.com email: wayne@waynepaige.com mobile: 540-222-2465