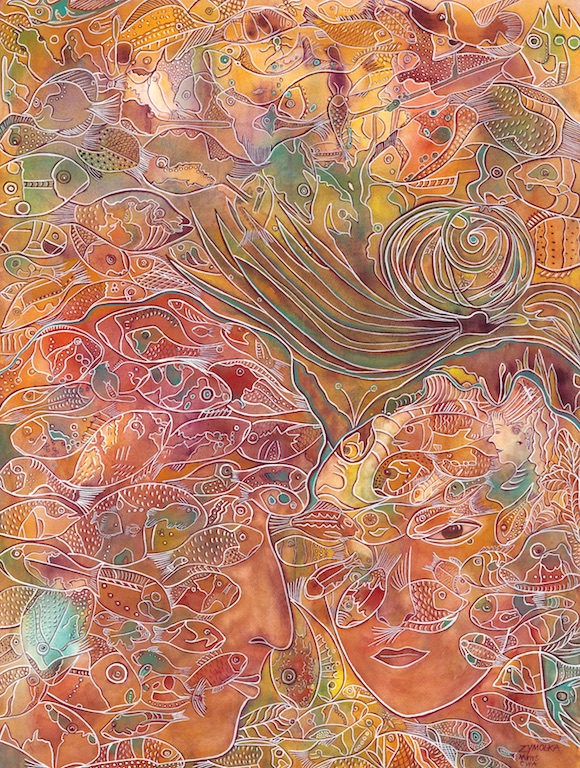 New Show:
"Less Talk, More Monkey"
and
August 16 - September 8
Opening Reception Saturday August 17, 3pm - 5pm
About the new show:
What is painting all about? It's a different proposition for each person who engages in a creative pursuit, but at least for these two people, making art begins with an impetus to create something new under the sun…something not quite ever seen before.
Leonardo used to advise artists to look everywhere for their motivation - including stains on a wall or clouds in the sky. And this is where Anita begins - with swirls of watercolor applied freely and without a conscious goal in mind. She looks at this amorphous veil of color and begins to see figures of all sorts of creatures - animals and human - with which she populates her work.
With her boundless ingenuity and imagination, she creates worlds wherein animals and people and plants are interconnected seamlessly, with a light and a sure touch . A world that reveals more and more detail the longer one looks.
On the other hand, Linda usually begins with a definite plan - a drawing of a still life, a portrait or landscape. Generally she then immediately finds the plan wanting and in need of major rehabilitation. And so begins a process of seemingly endless scraping down and repainting which, (since she works in oil) can go on indefinitely - until that point is reached where she realizes that a new form has emerged and she recognizes something both unexpected and, simultaneously, absolutely right.