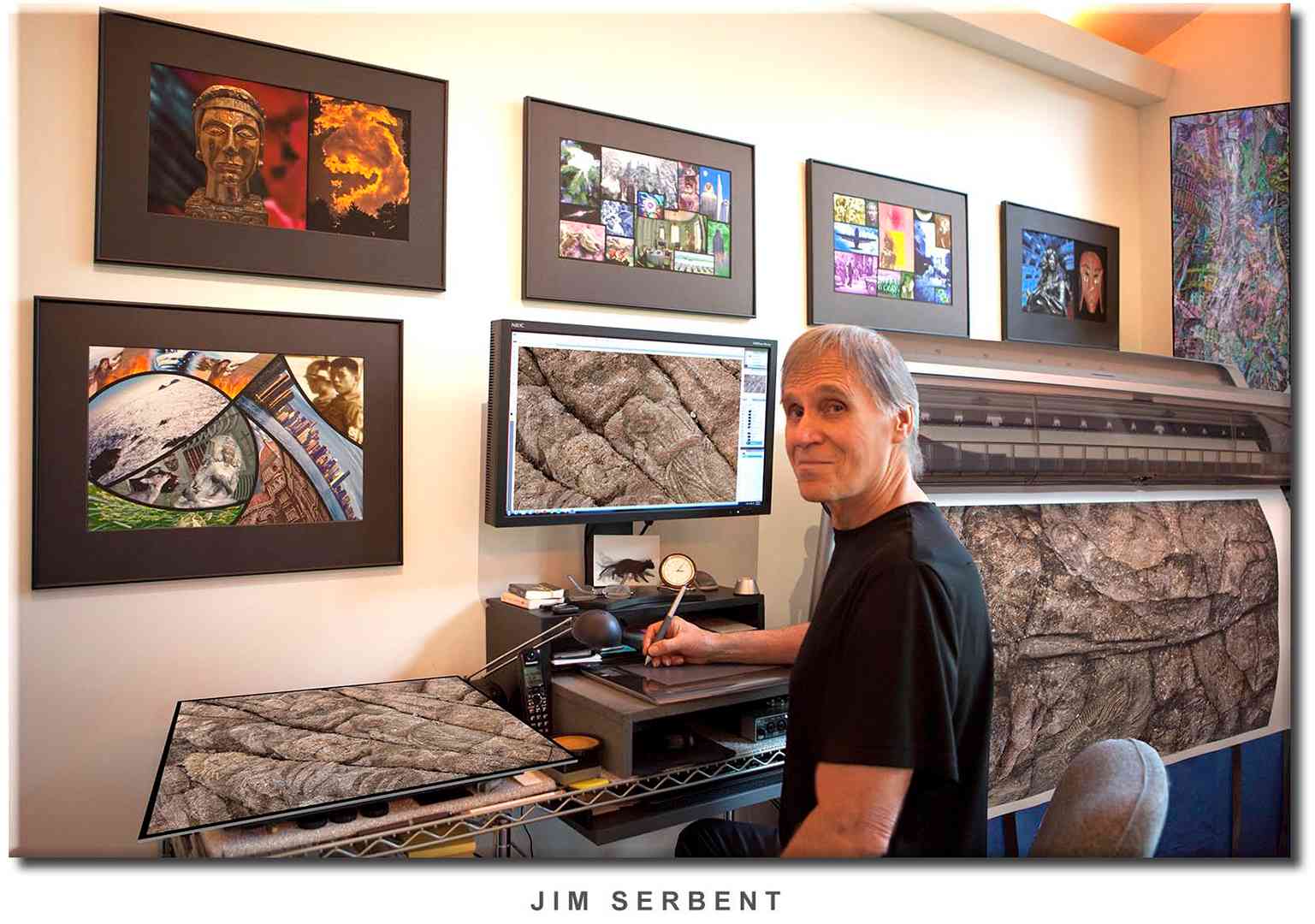 JIM SERBENT
New AB INTRA Series
This project was inspired by centuries-old, trans-cultural motifs: rose windows, those stained glass circles of prismatic wonder that illuminate Gothic cathedrals; mandalas and yantras, symbolic visual aids to meditation found in Hinduism and Buddhism; Islamic rosette designs; disk-shaped Aztec sun stones and Mayan calendars. The AB INTRA series (Latin for "from within") fuses crystalline symmetry with multi-mirror-imaged elements from diverse sources, photographic and digitally-realized. There is something that approaches the mystical when the eye is drawn into the center of these multi-faceted, geometrically symmetrical images. Through experimentation and intuition the AB INTRA compositions explore new dimensional possibilities. Depending on your state of mind, these kaleidoscopic digital collages may be viewed as intriguing geometric explorations, or portals to something far more profound.

Art Bio
Following a career in broadcast video production where composing and editing the moving image not only demanded extensive photographic expertise but practical knowledge of all aspects of media production from audio to art direction, Jim Serbent attained complete artistic freedom through independent video art projects and digital print making with major focus on the latter. Since the early 1980s his artworks have been featured at: The Whitney Museum of American Art, SFMOMA, The Corcoran Gallery of Art, Triton Museum of Art, Washington Project for the Arts, D.C. Art Center, Arlington Arts Center, Faber Birren National Color Award Show, and art spaces in New York, Washington DC, Virginia and California. Video art pieces were selected for US and international film festivals: AFI, Great Lakes, Little Washington, Tokyo Lift-Off, and NY Psychedelic.
AB INTRA-0
(Tree Mandala)
34" x 34"
Digital Collage Realized as
Archival Pigment Print
$850
AB INTRA-5
24" x 24"
Digital Collage Realized as
Archival Pigment Print
$365
AB INTRA-3
(Interiorem Lucem)
24" x 24"
Digital Collage Realized as
Archival Pigment Print
$365