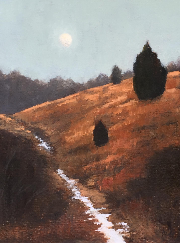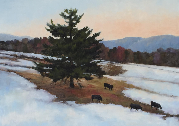 Kate Anderson combines printmaking and painting media, which she finds both challenging and inspiring. There is a cross pollination that takes place with the constraint and freedoms of working in one medium that then crosses over into the other.

Anderson's landscape paintings are predominately inventions. Her favorite way of working is to combine memory and imagination:
"I use memory as a selective editing tool which magnifies certain elements while omitting others. What remains is highly personal and with meanings that contain many private associations; things that I find and relate to within the landscape, my personal history, my thoughts about loss and the inevitability of change."
Inspiration for these winter paintings comes from the subtlety of the light and color of winter. Often the sky becomes the dominant element, dramatic and colorful against a subdued landscape.
Kate Anderson's studio and press are located at the Blue Ridge Artisans in Sperryville, where she also has gallery space. Her work can also be seen on Instagram at firepainter13.
She is preparing a solo show at the Middle Street Gallery, which will run July 6-August 12, with an Opening Reception July 14.